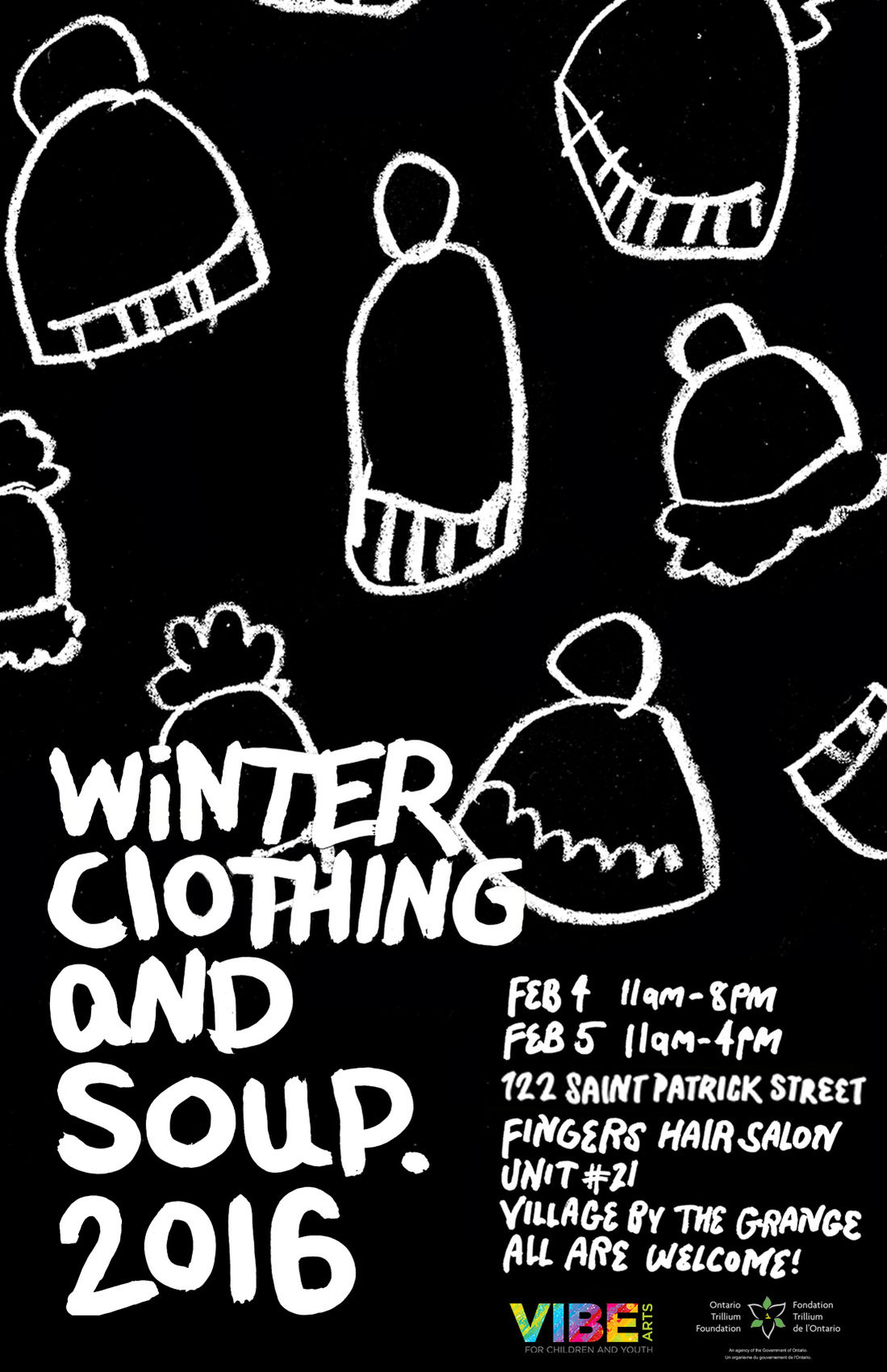 Winter Clothing and Soup 2016 
Due to the increasing closure of shelters, the threat of losing warming stations around the city, and the rapid gentrification of the downtown core, the polarization of communities in Toronto seems to be at an all time high. Although this disparity seems to grow daily, this event is an invitation for members of the downtown community to come together, meet new people both from and outside their neighborhoods, and to collect winter clothing and blankets for our friends who have to live on the streets this winter. 
Winter Clothing and Soupis a curated event and space attempting to achieve two purposes, each focused on an abstracted theme of social sculpture. The curated event, open to all public, creates a space that facilitates connection and conversation between different kinds of people, centered around the concept of a winter clothing drive and an open soup kitchen. Clothing drives and soup kitchens are events that by nature require the participation of a broad stratum of people, each dependent on each other for the success of the event. Success, in this capacity, is not quantifiable, but felt in the overall atmosphere of a place, a neighborhood, or a city that is able to come together in a spiritual gathering where all are equal. 
The second purpose, acting in union with this idea of success, is the physical manifestation of coats, hats, gloves, socks, and winter clothing that will be distributed amongst those in need of warmth this winter following the closure of the event.
Winter Clothing and Soup, Unit #21,will be serving soup and accepting donations on the following days; 
February 4th 11am-8pm 
February 5th 11am-4pm 
122 Saint Patrick Street, Toronto, ON
M5T 2X8, Unit #21, Village by the Grange 
All are welcome